Living in the Fraser Valley of British Columbia in Canada, I am a professional artist working mostly with clay and paint.
In addition to my own creative pursuits, a passion for teaching has offered me many years of excitement and growth. From pre-school to university levels my favourite areas of concentration have been Design, Art History, Visual Art, Sculpture, Critical Analysis, Art Appreciation, Art Education, Painting and Ceramics.
Three of the most compelling arteries of history that continue to inspire me include the genre, still life and portrait work seen in the 16th century Dutch and Flemish painting, the contemporary painting of Spain's Joan Miro as well as the architecture of Antoni Gaudi and……. musical instruments from Africa, Japan and Australia.
Now I am pursuing an exclusive concentration on the development of my drawings, collage, paintings and sculpture. My  continuing education includes hosting and participating in my studio, Art in the Country; a seasonal series of Life Drawing sessions (full figure or portrait) with professional models as well as numerous guest artist workshops offered throughout the year.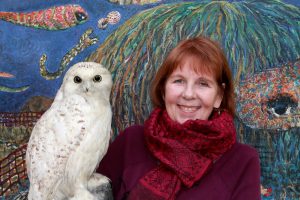 My commitment to animals threads itself throughout my work and the daily practice of living. A quest to learn more about different animals is always yielding unexpected and colourful events that complement my shared life with birds, cats, dogs, horses and an abundance of local wildlife.